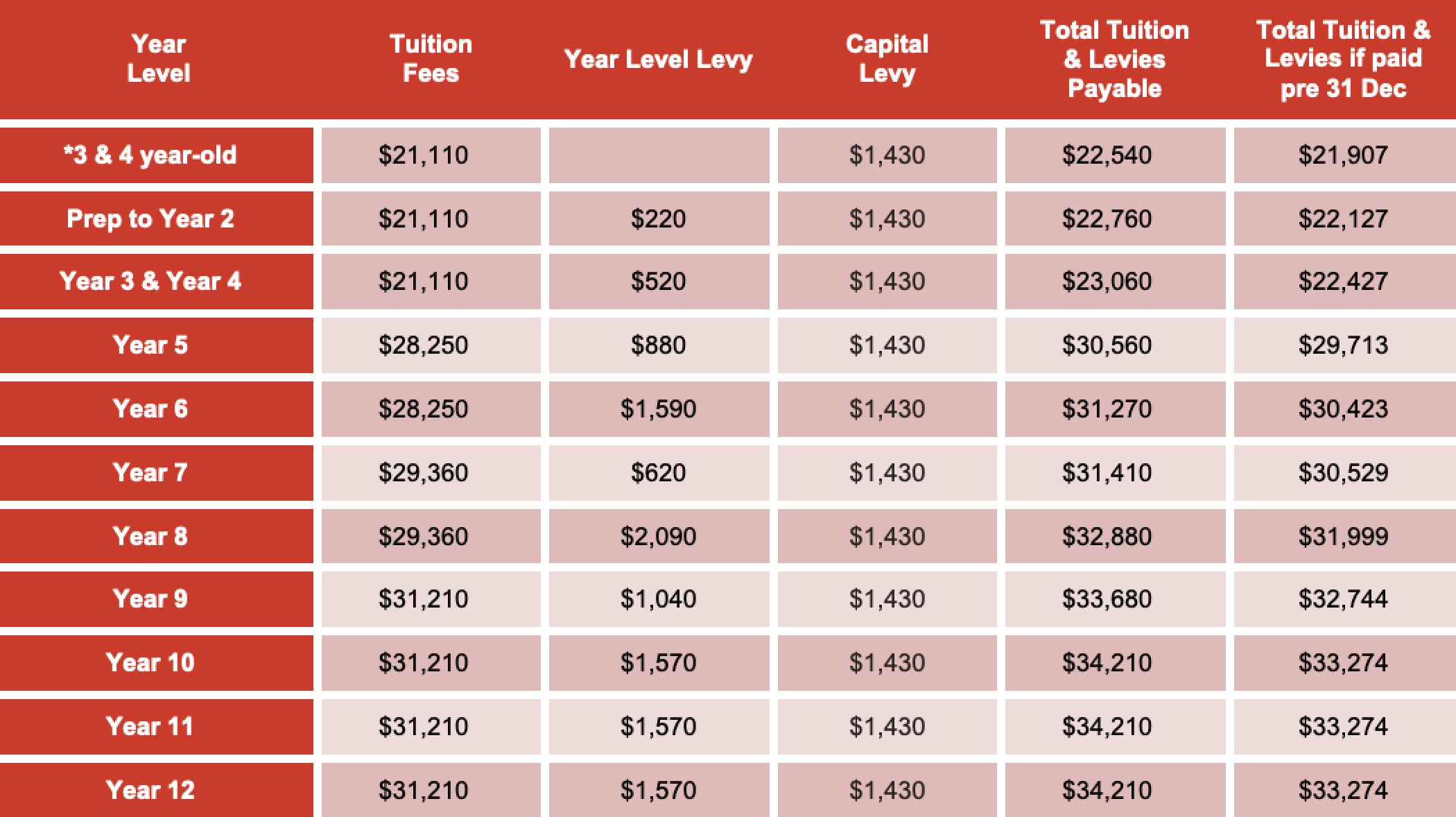 *     Pro rata rates based upon agreed number of days apply for 3 and 4 year-old Kindergarten  
^    An early payment discount of 3% of Tuition Fees is available if all fees and levies are paid in advance on or before 31 December 2020 (as shown above). Please note this discount is not available for the Year Level Levy or Capital Levy. For advanced payment of tuition fees and lump sum payments, kindly forward remittance details to the Finance team by emailing accounts@xavier.vic.edu.au
Capital Levy
This compulsory levy is for the enhancement of facilities through the capital works undertaken across the College. 
First Child: $1430            
Second Child: $715         
Third or additional children: $nil
Additional Fees and Charges
Additional charges for items such as the Rowing Levy, music fees, after hours school care, ancillary charges, etc. will be charged to accounts as incurred throughout the year.  These charges will appear on your fee invoice/statement issued in November 2020, April, July, and October 2021 and are due and payable upon receipt of each invoice/statement. 
Boarding Fees
Annual Boarding charges $25,990 per student (available for Year 9 to 12 only).
Payment Options and Methods

You can return your completed Direct Debit Service Agreement via email to: accounts@xavier.vic.edu.au
Advanced Payment Discounts 
The College will once again be offering a 3% advanced payment discount on tuition fees. This discount is available to families making full payment of all 2021 fees and levies prior to 31 December 2020. 
Tuition Discounts – Multiple Children
Families with more than one child attending the College at the same time receive a 5% discount on annual tuition fees for their second and any subsequent child. Kindly note this discount is not available to families receiving other forms of discount or assistance such as bursaries, scholarships, special consideration, etc. 
Capital Levy – Multiple Children
Families with multiple children attending the College are entitled to pay a reduced Capital Levy of $715 for their second child with no Capital Levy payable for any subsequent children.
Fee Invoices/Statements
The College will issue periodic fee invoices/statements to families via email as per the following timeline. 
November 2020
April 2021
July 2021
October 2021
Please note the 2021 Annual Tuition and Levy charges are invoiced in November 2020 prior to the upcoming school year. Fee invoices/statements issued in April, July and October will include any carried forward balances from the previous period along with any additional levies and charges as incurred.  These charges are payable separately upon invoicing and may include items such as the Rowing Levy, music fees, after hours school care, ancillary charges, etc.
Parents wishing to receive a hard copy of their fee invoice/statements should email the Finance team at accounts@xavier.vic.edu.au
Payment Options 
Upon receipt of the November 2020 fee invoice/statement, parents will be required to confirm their preferred payment arrangements as follows:
Option 1 - Advanced Payment 

A discount of 3% will be provided upon payment of the annual tuition and levies in full prior 31 December 2020. Please note that the discount applies to tuition fees only. Payments received after 31 December 2020 will be unable to attract this fee discount. Any additional levies and charges are payable upon receipt of each fee invoice/statement. 
 
Option 2 - Monthly Payments via direct debit 

Ten (10) monthly payments will be scheduled to be deducted from your nominated bank account or credit card on the 15th of each month from February to November inclusive.  

The monthly amount is to be determined by the annual Tuition Fee, Capital Levy and Year Level Levy for each student. Any additional levies and charges are not included in these monthly direct debit arrangements and are payable upon receipt of each fee invoice/statement.  

For parents of new students to the College or current parents without an active direct debit arrangement, please read and complete the Direct Debit Service Agreement (DDSA) and return to the College prior to 31 December 2020. 

This DDSA document outlines our service commitment to you in respect of the arrangements made between Xavier College and your family and is designed to explain your obligations to the College as well as those of the College to you. 

Please note that existing DDSA's held will be reinstated annually thus avoiding the requirement to complete on an annual basis.  Please do contact us if you have updated contact details or wish to change your payment arrangements. 
For further information and guidance on payment of tuition fees please visit the Xavier Payments page.
Fee Payment Issues 
The College strives for an open communication flow regarding any issues which may arise with your fee account. All communication is in confidence and should be directed through the College School Fees Administrator, Simon Hamilton, in the Finance team. 
Given the extraordinary year we have had to date, we look forward to 2021 and a successful continuation of your child's educational journey.